You've spent months perfecting the script, storyboarding, finding the right talent, shooting, and editing. The end result? A blockbuster brand or product video for your client.
With all that time invested, you can't stop at just embedding the video on a homepage or sharing it on Facebook and hoping that someone watches.
While great content is bound to be found, it's also important to be proactive about gaining the attention of and educating prospects and those unfamiliar with your brand. Running a series of YouTube ads is one way to make sure more of your client's target audience finds the video content you've produced, and with new formats and tracking capabilities, you can also use this to report ROI.
The thing is that advertising on YouTube is very different from running a PPC or paid social campaign. They are specific creative constraints and a ton of options for this platform, and you need a base knowledge before you even scope out that next video project to make the most of the paid possibilities.
The 2 Types of YouTube Video Ads
TrueView ads are the standard video ad type on YouTube. Advertisers only pay when a user watches the ad for at least 30 seconds or until the end of the video or if the viewer takes an action, such as clicking on a call-to-action. Videos can be longer than 30 seconds, and YouTube recommends that advertisers use videos that are at least 12 seconds long if they are looking to increase the view count of the video.
There are two types of TrueView ads:
In-Display Ads
In-display ads appear in YouTube search results, as related videos, or on websites that belong to the Google Display Network.
These two video ads appeared after performing a search on the site: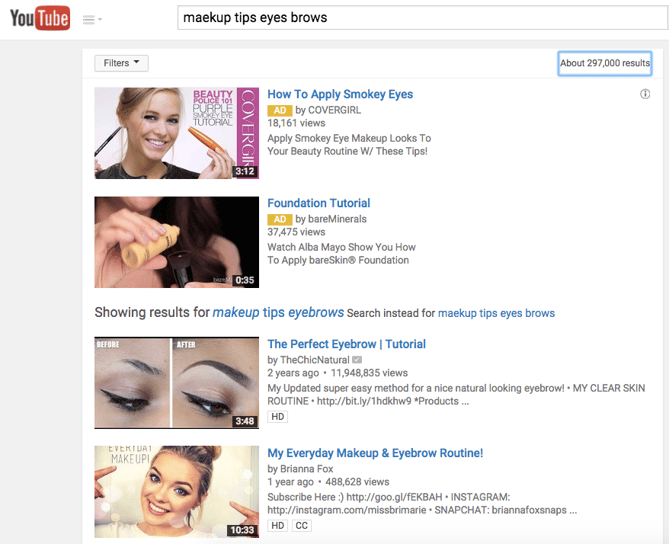 This ad from Toll House appears as a related video: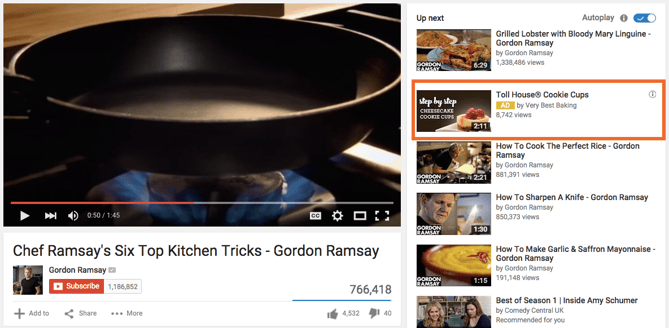 Once a user clicks on the ad, the destination video page features a spot on the right-hand column where a companion banner made from images from the video will appear.
In-Stream Ads
These are pre-roll ads that appear prior to someone watching a video he has selected. Viewers can also skip to their selected video after five seconds. With this option, you can also choose for your video ad to appear before videos shown across the Google Display Network, which are sites that have Google video ad units on their pages. For in-stream ads, advertisers can include a CTA overlay that directs viewers to a specific URL, as seen in the "Visit Advertiser's Site" copy below.
With TrueView, advertisers can gain a ton of information about the performance of their ads for optimization and testing purposes. AdWords provides data about completed views, partial views, if the video drives channel subscriptions, click-through rates on CTAs, views sourced from a user sharing the content, and views on the brand's other content that can be attributing to a person initially viewing a video ad. These actions help advertisers better understand the full value of their video ad spend and where to allocate budget to increase results.